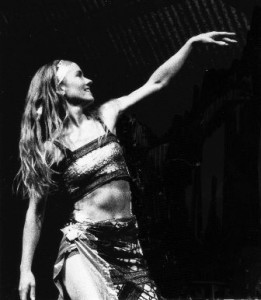 DonnaMation, performance artist, choreographer, and educator, is the artistic director and choreographer for Axé Didé, and co-director of New Lineage and BoomBots. DonnaMation specializes in the styles of Afro-Cuban, Brazilian, Popping and House dance.  She has performed and taught in various places around the world.
Donna has danced most of her life and began her career as a performer and professor of dance in 1999. Donna is well versed in a plethora of styles including, street dances such as Popping, Rumba, House, and Brazilian Samba, as well as traditional dances from Cuba and Brazil the meaningful and deeply rooted movements of the Orisha/Orixa.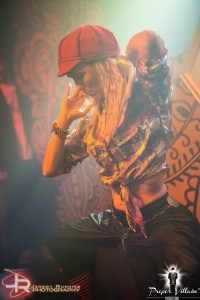 Donna's love of street dance styles from the U.S. has led her to a creative process combining the rich culture of hip hop with the intricate movements of Afro-Cuban dance: Afro-Cuban Hip Hop.  In Portland, she has developed a university-level course that investigates the connection and lineage from Cuban Rumba through salsa, hip-hop and house dance. When she is not on the road teaching or performing, Donna offers classes at her studio, Center Space, in Portland OR and credited courses at local colleges and Universities.
As a teacher, Donna is known for her enthusiasm, passion, and respect for the origins of the many styles of dances she shares.  Her classes are a workout and challenge people with all levels of experience.  As an artist, she inspires and supports her students to further embody the movement, not just imitate form. Since 1999 Donna has performed in other awesome groups as a dancer, director, and percussionist including Jujuba, The Lions of Batucada, New Lineage, and Black Angel. As the artistic director of Axé Didé, Donna masterfully combines rhythms and dances mainly from Cuba and Brazil, but also from the diverse lineages of the African Diaspora.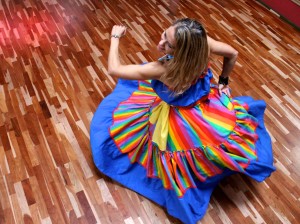 Donna studied at the Univeristy of Matanzas Cuba with Grupo Afro-Cuba and Los Muñequitos de Matansas after being introduced to Cuban Folklore by Teresita Domé Perez in 1997, who later became one of Donna's mentors.  Donna later studied extensively with Juan de Dios, director of Raices Profundas of Havana Cuba. Donna has also done intensive studies in Afro-Brazilian dance in Brazil with Rosangela Silvestre and Jorge Alabé.
Donna performed as a principal dancer with Juan de Dios, director of Raices Profundas, and Miguel Bernal, former lead percussionist of Raises Profundas, in their USA based group Omo Ire.  She has also had the great opportunity to perform with Jorge Alebé several times, and worked as a performer and the choreographer in a show with the world renowned creators of Bata Ketu show in Portland OR, Michael Spiro and Mark Lampson.